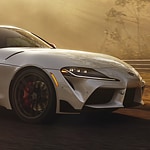 The Toyota GR Supra is an amazing sports car that delivers horsepower and torque in a small package. The engine is a 3.0-liter inline six-cylinder that comes with a twin-scroll supercharger. It's rated for 335 horsepower, and it's married to an eight-speed automatic transmission. With well-timed shifting and roaring throttle, you'll love how it feels to drive the Supra on highways or the track.
With the GR Supra, you get a silky, responsive engine, but it's the fuel economy that will blow you away. The Supra gets 31 mpg on the highway, making it one of the more fuel-efficient sports cars of its kind. The Supra is also a rear-wheel-drive car with precise steering and handling. You can switch between different driving modes, such as normal and sport.
You can test drive all of the latest GR Supra models when you stop by Wills Toyota and check out the newest inventory in Twin Falls.